The Collector
Lifestyle boutique hotel The Collector is found in the heart of The Hague. Located on the Haagsche Bluf: a courtyard where monumental facades from different cities and neighbourhoods are irreverently combined next to The Collector's delightfully schizophrenic art, food and furniture collection, combines self-made with high-brow, exotic with indigenous and serene with flat out loud.
Space for sharing
Collecting is something everybody does. Even it is not being framed, pinned, or published, everybody builds its personal collection. The items symbolize the moments and ideas that made people stop, think and maybe even change direction.
The Collector's Crowd
At The Collector, curious ones, the open-minded, the explorers, the confident – people who collect unexpected experiences and build beautiful, personal collections wherever they go, are welcomed. The hotel is even made of collection itself and offers an intimate hub for explorers, where colourful contrasts are celebrated.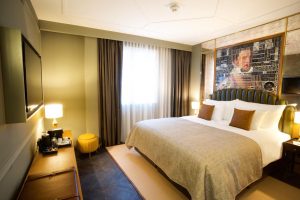 History meets modern
The Collector is located behind eight monumental facades on the Haagsche Bluf. This unique courtyard in the heart of town is known of its eclectic architectures style. This concept is translated into the hotel's interior, where vintage items from the 50's and 60's are combined with modern day items to create a quirky and luxurious effect.
Prepare to be enchanted…
By the ideas and the craft our artists have put in each and every room. The Collector counts a total of 57 rooms, ranging from comfort rooms to luxury suites. Every room has its very own character due to its custom and handmade artwork, designed by artist Julie Gondoin. Each artwork tells its own story and is exists out of various collections, ranging from parts of Barbies to cassette mixtapes.
Basecamp
Basecamp is where people first are introduced to The Collector. It is where explorers are welcomed for a luxurious stay and locals are invited to come by for a cup of (specialty) coffee, an out-of-the-ordinary lunch, a surprising bite and some wicked cocktails during the evening hours.