Apollo Hotel Vinkeveen is the youngest hotel of the Apollo Group. A combination of green and city, with a view of the Vinkeveense Plassen and its own harbor. Vinkeveen has a versatile nature reserve with something for everyone. Ideal for a relaxing weekend away in nature, or a city trip to Amsterdam or Utrecht. You can reach our capital within 12 minutes via the A2. Vinkeveen is located exactly between Amsterdam and Utrecht.
Planning a meeting or event?
You organize your meeting or event in the brand new 1,300m2 Event Center Vinkeveen at the Vinkeveense Plassen. The space has its own entrance with reception area and terrace on the water. Time for a break between your meetings? Good idea, the catering is provided by The Harbor Club. In good weather they like to plan this for you outside on the terrace. A perfect location with spacious parking. Located directly at the A2.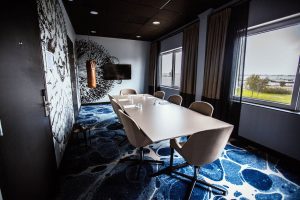 AMSTERDAM AT A CLOSE BY DISTANCE
You look in your interior mirror and see the Vinkeveense Plassen. That is a wonderfully relaxing stay with parking in front of the door. The hotel has 4 charging points for electric cars. Now on to Amsterdam. Via the A2 you are there in 12 minutes and Schiphol Airport in 19 minutes.
VINKEVEENSE PLASSEN
Vinkeveen is particularly known for the Vinkeveense plassen. These ponds are the cleanest in the Netherlands and in some places up to 53 meters deep. This is deeper than most of the North Sea. For divers, this is one of the favorite waters in the Netherlands, but there is also a lot of sailing and swimming in the summer.
WALKING AND CYCLING
In addition to water sports, Vinkeveen is also known for the beautiful surroundings in which it is located: cozy sandy beaches, enticing bathing water, picturesque winding peat rivers, extensive polder landscape, attractive village centers, monumental farms and fortresses of the position of Amsterdam. In short, you will not be bored in this nature reserve. Whether you like water sports, walking, cycling, mountain biking or canoeing. The surroundings of the Vinkeveense Plassen have it all.
AMSTERDAM
You are in Amsterdam at a 12-minute drive from our hotel. Good to combine with a stay in nature. In the capital you visit all the highlights. Go to the Royal Palace, walk along the canals, shop in the P.C. Hooftstraat or go to the Museumplein for all Dutch masterpieces.
UTRECHT
You can be in Utrecht within half an hour's drive. This historic city has been voted the most beautiful canal city in the Netherlands! In addition to the beautiful canals, Utrecht also has the famous Dom Tower. Also a real must-see! If you have had enough of the sights, Utrecht is also the city for shopping and afterwards at a nice place to eat.