It is that time of the year again, when people are enjoying their free time and the sun. And what is a better way to celebrate summer than to relax at some of the nicest restaurants in Amsterdam? Here are our favorite restaurants with a waterside terrace in Amsterdam:
Pllek
Pllek is a new restaurant located on the NDSM-werf. The restaurant is made out of raw industrial materials and has a beautiful waterside terrace at the IJ. Pllek organises parties, movie nights, live performances, theater and morning yoga. The restaurant is open 7 days a week and uses seasonal and local products prepared by Chef Dimitry Mulder. It is also possible to organise events in the inspirational eventroom Pllek offers.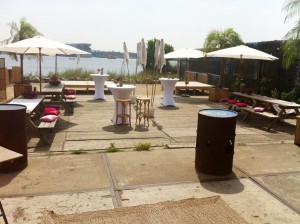 Cafe de Ceuvel
Cafe de Ceuvel is a pavilion situated at a former shipyard. In the past few years the shipyard has been turned into a self-sufficient office park where old houseboats were lifted onto the land. Cafe de Ceuvel is made out of recycled materials and offers food that is not only tasty, affordable and healthy, but also good for our planet.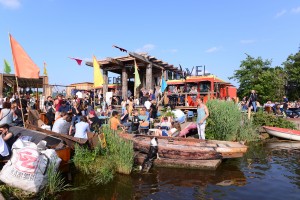 Waterkant
Waterkant is inspired by beautiful Paramaribo and is situated in the centre of Amsterdam next to the water. It is the ultimate place to relax, connect and enjoy. Waterkant is a place where people meet, regardless of age, gender, origin or social class. The restaurant offers typical Surinamese dishes, like Roti and Peanut soup.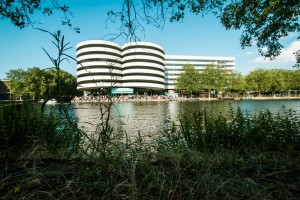 Hannekes Boom
Hanneke is the new cultural hotspot of Amsterdam. Hanneke is sustainable, she has a strong nautical interest and leads you to the history of its place and its surroundings. In the evening Hanneke serves a delicious fresh evening menu; a fluctuating mix of tasty fish, vegetarian and meat dishes. Every day is a different season!