Earth's surface is 71% water and we should do something with that! An overnight underwater or enjoy a lovely dinner while fish and sharks swim around. It is all possible! The following places are definitely a must-go if you want the underwater experience.
Pemba Island, Zanzibar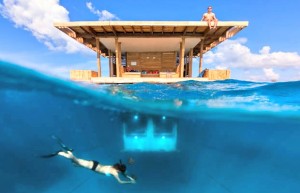 The Manta Resort has a private floating island, in the midst of the Zanzibar archipelago. The island has three-stories of which the bedroom is four meters below the surface. On the deck you can sunbathe, lounge or dine.
Rangali Island, Maldives
Hotel Conrad Rangali Island on the Maldives has a beautiful underwater restaurant. The restaurant Ithaa is located 5 meters underwater, where you can watch the sea creatures while you enjoy lunch or dinner. The hotel rooms are located next to the beach, with two spas just around the corner.
Caribbean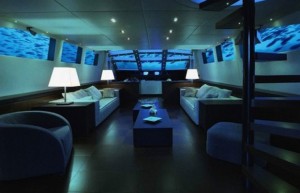 The Lovers Deep is a submarine equipped with a captain, a private butler and a chef and will give the ultimate underwater experience. When booking, the entire submarine is yours to use. Transfers to the submarine can go by speedboat or helicopter.
Soon to come:
Fuji
Fuji will come with the first 5 star underwater resort; the Poseidon Undersea Resorts. Here the entire resort is located about 27 meters underwater. The rooms will have an amazing view over the ocean with curious fish. The resort will also have a nine-hole golf course, tennis court and fitness facilities.