Today, we made a top 5 list of the most unique restaurants in the world. All very creative concepts, created for the sake of an experience enhancing diner. These restaurants are known for their great ambiance and uniqueness. Numbers 4 and 5 of the list are actually affordable by most people. For the top 3, however, you'll have to bring a bigger wallet.
We have all grown tired of slow service in food chains, or being bothered by waiters in restaurants. In Baggers, say goodbye to slow service and rude waiters, as this modern restaurant takes you to a fully automated and futuristic dining experience. Right from ordering food using touch screen machines on your table to delivering food right in front of you, Baggers will amuse you with how the spiral conveyor belt can give you everything you wish from the menu. Watch in awe as everything inside Baggers is automated, making ordering, dining, and enjoying your food so modern you will forget about crappy food service and unhelpful waiters. Future-forward and innovative—Baggers will surely give you a taste of future dining.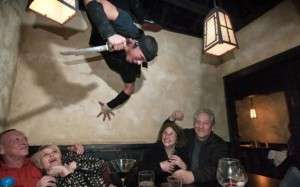 You think eating Japanese food is already blog-worthy? Wait until your authentic Japanese food gets served by ninjas. Yes, ninjas, complete with their throwing stars and daggers. Your dining experience will surely be sealed with fascination and awe with ninjas and how they made it to New York, just in time to serve your meal.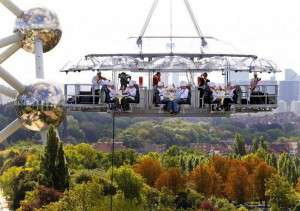 Forget your fear of heights and enjoy the exhilarating view and feeling from 150ft from up above. This once in a lifetime experience will surely bring you a different kind of high as you dangle above ground with heavenly food served right from the oven in the middle of the table up above the sky. It might cost you a little sky-high credit card charges, but the food and the experience? Sky-high fun and Sky-high memories.
Ithaa restaurant will give you a unique dining experience as you eat with the company of underwater species. Have a taste of exquisite food as contained sea life watches you from above. Watch sharks overhead and enjoy the delight of seeing tropical fish make the seawater more interesting than ever. The Ithaa Restaurant will not take away your fear of sharks, but it will bring you closer to underwater life and creatures.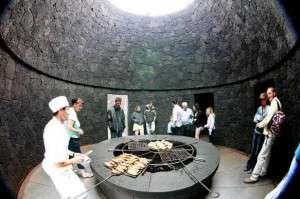 Imagine your food being grilled on a live volcano. El Diablo grills your meals over the volcano, where smoky flavor comes out of the food. You will surely love your meal's refined flavor and texture once it gets cooked over live mountains of fire.
Source: www.therichest.com