Ljubljana, which is the capital city of Slovenia. Slovenia is a small country and the third most forested country in Europe. Slovenia is often called "Europe in miniature", this because of its unique charm which derives from the geographical and climatic variety. Slovenia has a multitude of landscapes like the Alpines in the North and the Mediterranean in the South.

Accessibility
Slovenia is located in Southern Central Europa surrounded by Austria, Italy, Hungary, and Croatia. The country has a well-developed and safe road network and railway connections. All international transit trains travel through the Ljubljana railway hub. Slovenia can be reached by the sea from Croatia and Italy using the fast passenger catamaran or hydrofoil. When travelling to Slovenia by plane, the international Ljubljana Joze Pucnik Airport can be reached from many major European destinations through their national carrier: Adria Airways.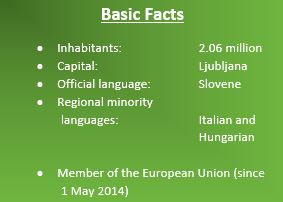 Ljubljana is a cultural centre which hosts more than 10.000 cultural events each year, for example musicals, theatre shows and international festivals. In the centre, you can find theatres, cinemas, concerts, and book clubs which will give you a taste of various cultures. Besides being cultural Ljubljana is also educational. The city offers a lot of reputable schools and a faculty which is placed among the 500 best faculties in the world.
Highlights in Ljubljana
Ljubljana has a lot to offer from skiing and winter sport activities to daytrips towards the surrounding towns. A must is tasting the traditional Ljubljana food! You can even buy it at one of the shops located in the city centre. Other sites that are worth seeing are Preseren square, Tivoli Park where the Zoo of Ljubljana is located, National Museum, Botanic Garden, and Slovenes National Theatre (pictures from left to right).


However, the biggest highlight of Ljubljana would be Ljubljanski Grad or the Castle of Ljubljana located on top of the hill in the town which offers a great view of Ljubljana!

Business venues
Besides the fact that Ljubljana has a lot to offer in the area of leisure, there are also opportunities for business people. In the centre of Ljubljana there is a well-developed business area where a lot of companies can be found. For business events various venues are available and located within Ljubljana. We have picked out a few interesting business venues where you could hold your meeting or reception.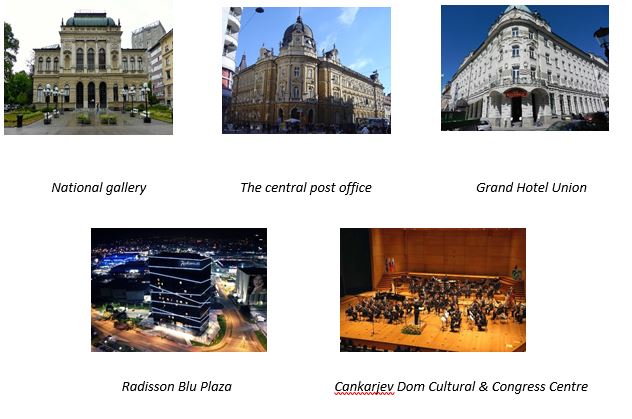 Are you interested in a corporate trip to Ljubljana? Please contact us by phone +31(0)20 8202351 or via info@bbih.nl