Poffertjes
Poffertjes are a traditional Dutch version of tiny pancakes. Unlike American pancakes, they have a light, spongy texture. The Dutch have poffertjes as an afternoon snack or as desert. You can buy them at special stands throughout the country or in a pancake restaurant. There are even special pans to make the dish, so you don't need to come down to The Netherlands just for the poffertjes.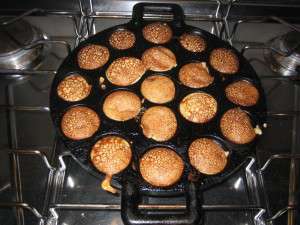 Stroopwafels (syrup waffle)
Stroopwafels are a type of waffles we have with a cup of coffee or tea. It is a waffle made from two tin layers of batter with a caramel-like syrup in the middle. They were first made in Gouda in the 18th century. Stroopwafels are sold in a large version on the street markets in Holland. The regular version you can buy in the supermarkets.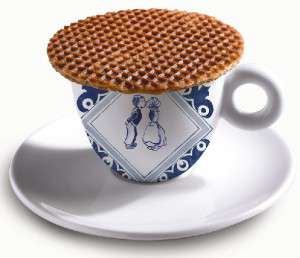 Kroket
The kroket can be prepared in multiple ways. Essentially, it can be a seasoned vegetable roll covered in bread crumbs and then deep fried. These can be akin to Mexican tacos or Asian egg rolls using a deep fried batter instead of a shell. Often people add mustard to their kroket. These crunchy rolls are quite popular and can be found at snackbars and restaurants. In Holland, there are special snackbars like the FEBO, where you can pull the snacks out of the wall (picture).
If you would like to have some snacks with friends, we would advise you to order "bitterballen". These are small, round versions of the kroket.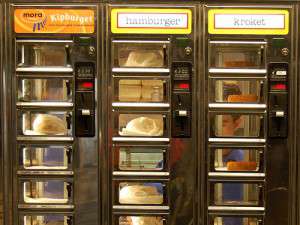 Frikandel
A frikandel is a sort of minced-meat snack, that the Dutch often eat along a plate of French fries. In The Netherlands, the frikandel mainly consists of a mixture of mechanically separated meat of chicken (around 40% or more) and pork (about 25%). If you prefer a sausage with some extra flavour, you should try the "frikandel special". Curry ketchup, mayonnaise and onions are added to the dish.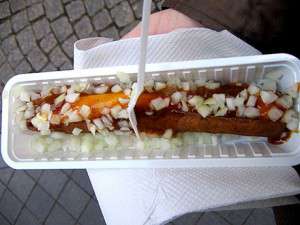 Hagelslag (chocolate sprinkles)
Sprinkles! If it ain't Dutch it ain't much! The treats from Holland. These small delicious chocolate goods are available everywhere at any time, consumed in every Dutch family. What was originally devoted for the elite was later on one of the most used products during the breakfast and lunch in the Netherlands.  Thousands of sprinkled, with the taste of good chocolate, cascaded over your sandwich, how does that sound?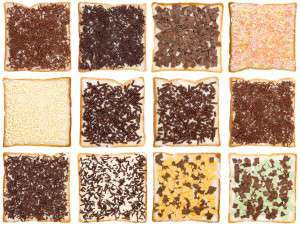 Drop (liquorice)
It is black! It taste good and it is Dutch! This candy, which is obviously black is something you won't put in your mouth at first sight if you're not Dutch. This candy, which is fabricated by many Dutch brands, exists for many years. Experience this 'one of its kind' taste. You wont be disappointed.