Corporate Social Responsibility has been one of the biggest trends in the past decade. Obviously, hotels notice this to and try to make use of it. We are giving you two examples of the implementation of this trend to a successful marketing action.
Tierra Patagonia Hotel & Spa: Traceable seeds
Chile's Tierra Patagonia hotel & spa has launched an initiative to give each of its guests a traceable virtual tree seed. Every guest receives a code and can choose where in the relevant protected area they would like their tree to be planted. Once planted, guests receive a geo-referenced Google Maps link to track their tree. This way, they can virtyally follow the growth of their own tree.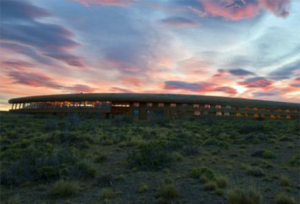 Green Leaf Inn: Wisconsin hotel generates more energy than it uses
Scheduled to open in Q4 2013, the Green Leaf Inn Hotel in Delavan, Wisconsin is a net-zero energy hotel that will generate more electricity than it consumes. The boutique hotel includes an on-site aerobic wastewater treatment system, a wind turbine, multiple solar panels and a rainwater collection program. Rooms are equipped with en-suite bathrooms and hot tubs. QR codes enable guests to discover more about the energy initiatives throughout the hotel.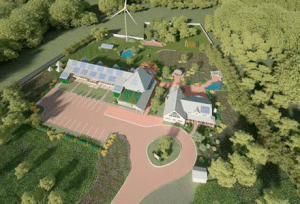 With the urbanisation that we are seeing these days, it is good to know there are still places surrounded by nature. We think it is a great thing that hotels recognize the wishes for a greener environment. Especially the Green Leaf Inn is a very good initiative, because it would be quite an interesting hotel for all kinds of people. From the hippies in San Francisco to energy suppliers all around the world, this hotel will quite probably succeed.
However, from a business point of view, this project has a downside as well. As you can already see on the picture, a huge investment was made. The question is who is going to pay for this? The lower amount of variable costs (in energy) will improve the return on investment, but in order to make back all of the costs they made, the room rates will probably be higher than their competitors. This is due to the fact that in the starting year, 2014, there will only be 19 suites.
The Tierra Patagonia hotel does not help the environment. However, they are trying to create a more loyal relationship with their guests. Do you think this is going to work?