England
Christmas is a well known tradition in England. Celebrating Christmas in England is a wonderful experience because of its traditional style and the beautiful Christmas decorations. If you really want to feel the Christmas spirit you should visit the large cities in England where you can find a lot of Christmas markets and festivities.
London is not only known for the museums, the famous London Eye and the large shopping stores, the city is also known for the celebrations surrounding Christmas. London in its entirety is covered in marvelous Christmas lights and you can feel the Christmas spirit everywhere.
In the winter period you can find one of the popular Christmas festivities at the Hyde park in London. Here you can also find the Winter Wonderland that is opened from 21st of November till the 2 of January. During the festivities there are plenty of places you can visit, for example events or fairs.
The enchanting music of Christmas songs that you can hear on every corner in combination with the beautiful lights will give you a true Christmas experience. Celebrate your Christmas in style and comfort by going to London for the holidays!

Germany
Tired of commercialism taking over Christmas and looking for a traditional and romantic Christmas this year? Then Germany is the perfect place for you!
Every year more and more visitors fall in love with the wonderful German Christmas markets. Throughout the country these historic and unique markets are held. Christmas gifts are not mass-produced but craftwork of real quality. You can buy all kinds of Christmas gifts, such as crib figurines, toys, wood carvings, marionettes, candles and lambskin shoes to place underneath your Christmas tree. But this is not all… The ambience is further enhanced by the aromas of grilled sausages, hot chestnuts and gingerbread biscuits for the little ones.
Most Christmas Markets start in the last week of November and run through to Christmas Eve or a day or two before. They are usually open every day from 10am to about 8 or 9 pm.
If you would like to experience a truly special Christmas market we would advise you the Nürnberger Christmas market. The name of the Market is "Christkindlesmarkt". Translated it means Christmas Child Market. Every two years Nürnberg chooses a new Christmas child.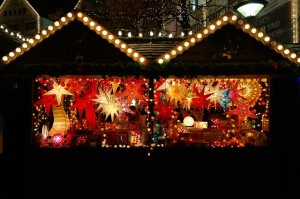 The Netherlands
The last couple of years Christmas markets have become very popular in the Netherlands. They began to organize these events in a few cities and as the years passed by Christmas markets became a tradition. In the Netherlands you will find traditional Christmas markets where you can enjoy delicious food, hot drinks and more.
During the event "Magical Maastricht" the city undergoes a metamorphosis and becomes a Christmas paradise. You will get inspired when seeing all the beautiful Christmas gifts and decoration. You can also enjoy many delicious food and drinks like mulled wine, traditional Dutch pancakes, donuts, waffles, pea soup and much more. There is something to do for everyone with a large skating rink, a 38m high Ferris wheel, an old fashioned Grande Carousel with 2 floors and various live performances.
Come visit the Netherlands and enjoy the holidays.