When you are looking for a citytrip, London, Rome, Barcelona and Paris are the first to come to mind. But wouldn't it be amazing to see something else than those crowded cities? We found three beautiful places to go to, when you want something else than all the others.
Ålesund, Norway
Ålesund is a very colourful city and is called the most beautiful city of Norway. It is spread over several islands and near the spectacular Sunnmøre Mountains. The city is built in Art Nouveau glory and is home to the world's largest aquariums; the Atlanterhavsparken.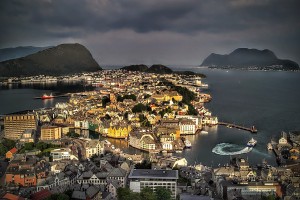 Évora, Portugal
Évora is a Unesco World Heritage Site, because of the well-preserved old town centre. In the historical centre of Évora you can see a lot of sights, leftover from Roman times. For example the Cathedral of Évora, Prata Aqueduct or the Roman Temple of Évora.
Lucerne, Switzerland
Old Town Lucerne is located just north of the Reuss River, and still has several fine half-timber structures with painted fronts. Besides that, the city has numerous sights, like the Spreuer Bridge and the Chapel Bridge, which is the oldest covered bridge in Europe.