The sun started to shine and Amsterdam is filling up with people ready to enjoy this beautiful city. With many lovely canals, restaurants and parks Amsterdam is the perfect place to enjoy the summer sun. If you are looking for a hotel in Amsterdam to make your stay complete, don't hesitate to contact us!
Terrace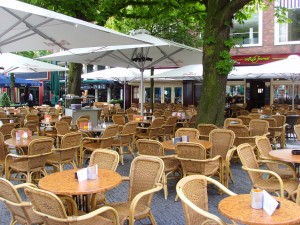 Amsterdam has many lovely restaurants, bars or hotels with sunny terraces where you can enjoy a nice refreshing -if preferred; alcoholic- beverage and watch the people walk by. Get a nice tan in the sun or enjoy the shade of the parasols.
Barbecue in the park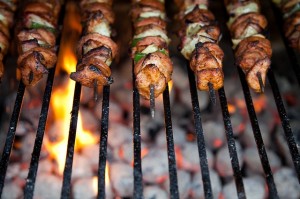 Forget warm, crowded restaurants! Get one of the disposable barbecues, buy some meat at the supermarket and have an amazing barbecue in the park. Not all parks allow it, so be sure to check beforehand. There are specially assigned places where you can have the barbecue, so you don't burn the park down or disturb others.
Bike tour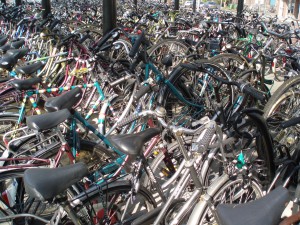 Bikes are everywhere! Amsterdam is a great place to go on a bike-tour. Go through the Jordaan, past the canals, bike to the squares or visit the parks, while getting a nice tan. Bikes are available for rent throughout the entire city. Don't like to bike? Rent a Segway!
Canal tour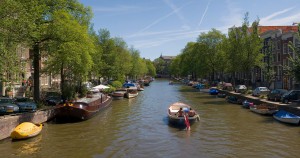 One of the things Amsterdam is famous for: the canals! A very popular activity during sunny weather is to go on a tour over the canals by boat. You can go by tourist-boat or rent a private boat to explore Amsterdam by water. But watch out for traffic, nice weather means a lot of boats!
Rijksmuseum pond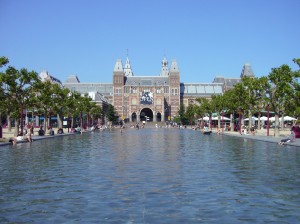 At museum square, across the Rijksmuseum you will find a nice pond. During summertime it is nice to sit on the edge, enjoy the sun and –if you want- take off your shoes and take a stroll through the water.
Zandvoort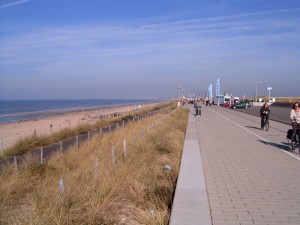 If the heat of the city is too much, you can always go to the beach in Zandvoort. It only takes 30 minutes by train from Central Station and leaves every half hour from platform 1. Pack some sandwiches and turn it into a nice day out!