Yet another list! This time we bring you the ten most expensive hotel suites in the world. These are the suites that are commonly visited by the rich and famous. The price tags prove the exclusivity of these suites.
10. Royal Suite, Burj Al Arab, DUBAI, UAE (US $18,716 per night)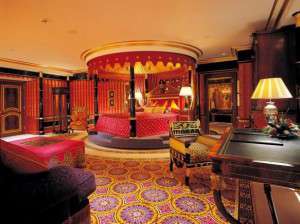 Boasting the unique design of a "dhow", a kind of an Arabian vessel, the Burj Al Arab has gone beyond being 'just' luxurious when it decided to offer only suites. By suites, it meant a two-floor abode laden with whirlpool baths, living and dining areas, and dedicated butlers. An unnamed British journalist boldly named it a "seven-star hotel", and he wasn't kidding. This is Dubai's modern edition of an oasis.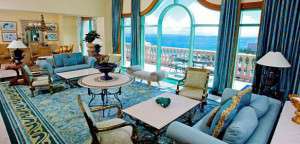 Alas, the lost paradise of Atlantis is found! It currently comes in the form of a Bahamian pompous 10-room suite with sofas, cushions, gilt mirrors and chandeliers all bathed in golden glory. Two of the famous Michaels, Michael Jackson and Michael Jordan, have each paid a visit here, and it's not hard to see why. Try peeking in its four-marbled foyer, a 15-meter living room with a baby grand piano, and the splendid views of the Caribbean.
8. Ritz-Carlton Suite, Ritz-Carlton, TOKYO, JAPAN (US $26,300 per night)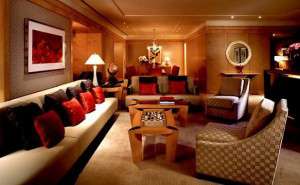 Say konnichiwa to another world-class Ritz Carlton, this time found within the realm of Tokyo. Of course, the Frette linen sheets, humongous marble bathroom and beds, flat-screen TVs, and the individual shower booths would barely earn your awe. However, what made this suite such a catch is its imposing size and stance: a space of 300 square meters, and a commanding view over most of Tokyo's tallest edifices, the Imperial Palace, Roppongi Hills and Mount Fuji.
7. Presidential Suite, Hotel Cala di Volpe, SARDINIA, ITALY (US $32,736 per night)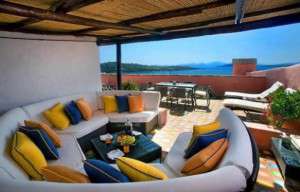 Sardinia is not your stereotypical Italian hub. It breathes life into the impressive Presidential Suite of the Hotel Cala Di Volpe, showcasing three bedrooms, a solarium, large terrace, fitness area, and a private swimming pool. Also worth noting is its exquisite Mediterranean-flavored décor, accentuating the majestic coastline and brine of the Costa Smeralda, which it looks out onto. La bella vita, indeed!
6. The Royal Villa, Grand Resort Lagonissi, ATHENS, GREECE (US $34,356 per night)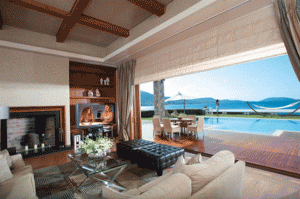 The Greek gods must have willed their homeland to be blessed with luxuries such as the Grand Resort Lagonissi. The two king-sized master bedrooms, a living room with a fireplace, a butler's quarters, and two marble-lined bathrooms prove that size is all that matters. Additionally, you can revel in aquatic abundance through its two expansive pools (inside and outside), steam bath, a nearby private marina, plus a beach. It's an odyssey you won't forget.
5. Hugh Hefner Sky Villa, Palms Resort, LAS VEGAS, U.S.A. (US $35,487 per night)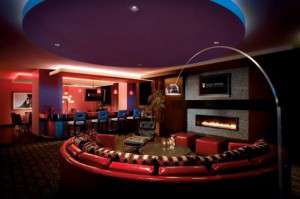 Situated at the famed "fantasy tower" of the Palms Casino Resort, this suite attracts many A-listers. Playboy Magazine mogul Hugh Hefner has personally blessed the pad with his Midas' touch, as evident in its huge rotating bed, a Playboy-branded indoor pool, racy artwork, and vixen-attracting cantilevered spa that looks out to the entire Las Vegas strip. Ticking in at 836 square meters, it also features two bedrooms, a large bathtub, bar and poker table, and an indoor waterfall. Sadly, Hefner still takes the cake as the room won't include his Playboy bunnies.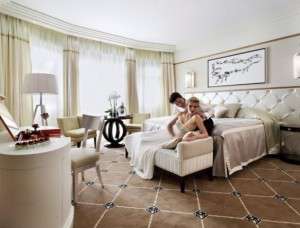 Aside from Cineplex features that are film festival-certified, another thing that has people stirring to this southern French city is The Hotel Martinez, which has recently joined the Hyatt group. Bask in the penthouse suite's art deco sensibility, which very well extends to its sitting room, dining room, two bedrooms, and a dressing room. It also has two bathrooms, a hammam, shower, and a spa bath, since you just won't get enough of baths in the Riviera. This movie-like elegance is capped off with a view of the Croisette and the Bay of Cannes, with only your own Palme d'Or missing.
3. Ty Warner Penthouse Suite, Four Seasons Hotel, New York U.S.A. (US $41,836 per night)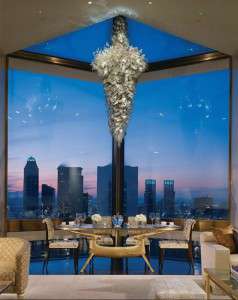 Concrete jungles are where dreams are made of, says Jay-Z's tune, and you'll only have to look out to the Four Seasons Hotel's 360-degree panorama of the Manhattan skyline to know why. Holding nine rooms, you can bring the clan 800 feet high to witness this marvel, plus the suite's platinum and gold-woven fabrics, indoor-outdoor Zen garden, and an astounding chandelier. All of those, right at the services of a personal butler, therapist, and a chauffeur. Indeed, that's how toy magnate Ty Warner sees luxury.
2. The Presidential Suite, The Raj Palace Hotel, JAIPUR, INDIA (US $45,000 per night)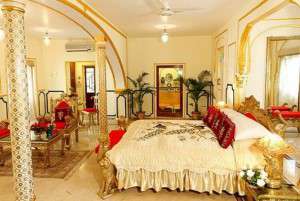 For the affluent, the Raj Palace Hotel is their own Ganges River. The palace-like Presidential Suite was a former Maharaja's residence, and quite a residence it is: it's a four-floor apartment that occupies nearly 1,500 square meters. One of the biggest in Asia, it's possibly one of the most extravagant as well, as it simply drenches the entire suite in gold leaf, stucco, ivory and mirror work. Lest we forget, the private museum is also there to encapsulate India's entire colorful heritage for you, just in case you're feeling sluggish to roam the streets of vibrant Jaipur.
1. Royal Penthouse Suite, Hotel President Wilson, GENEVA, SWITZERLAND (US $65,000 per night)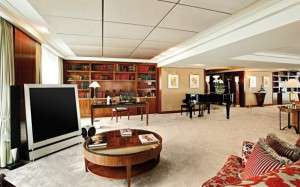 Neutral countries like Switzerland have safety as their utmost concern. Hotel President Wilson has carefully meshed this concept with classy luxury when it built its spacious 12-room Royal Penthouse Suite. Alongside bulletproof doors and windows and a private elevator are a Steinway grand piano, billiard room, library, and private fitness center so you can relax in style. Majestic views of Lake Geneva and the Mont Blanc also await, marking a quiet European getaway that's truly safe, sophisticated and downright Swiss.
Source: www.therichest.com